Cybex 625AT Total Body Arc Trainer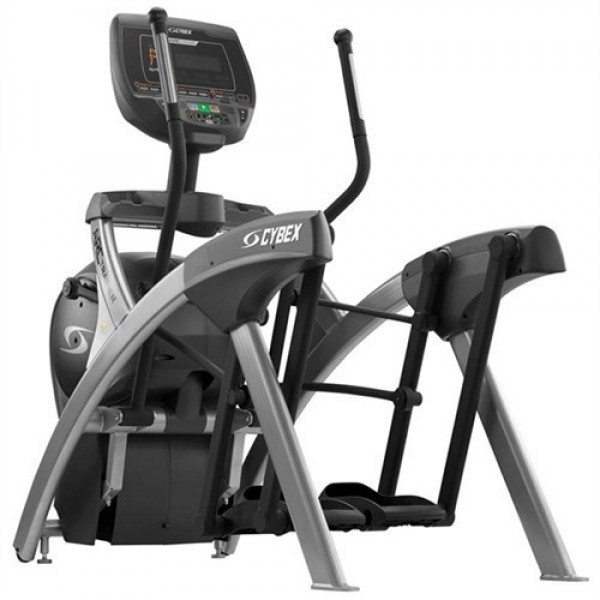 The Cybex 600 series Arc Trainer has previously been voted "Best New Product" because of the revolutionary and intense workout it delivers by combining elements of a climber, crosstrainer, and cross-country skier in one easy-to-use, low impact machine. Total Body Experts continues to receive exemplary feedback in the form of rave reviews from both club members and owners alike who are in awe of the simple design, the comfortable gliding motion, the user-controlled speed, and the vast range of resistance available on the Cybex Arc Trainer.
Cybex is known for its innovative and ongoing research in the areas of physiology, biomechanics, and anatomy, and the Arc Trainer was developed from this passion and pursuit. The 600A boasts superior biomechanics designed to transmit the least amount of stress to ankle, knee, and hip joints, while maintaining the highest level of performance, and footplates that incline along an adjustable arc of motion in a bilateral, reciprocal movement, which provides a smooth exercise experience.
A resistance range from 0 to 900 watts accommodates a wide variety of users, from novices to the most dedicated athletes, by yielding a lower work rate and relaxed feel at low resistance levels, and providing high intensity training, with greater muscle loads, at higher resistance settings. Whether it's in your club, office, or home, the Cybex 600A Arc Trainer remains to this day a durable, innovative, and essential machine that continues to stand out among others in its class for design, performance, and results.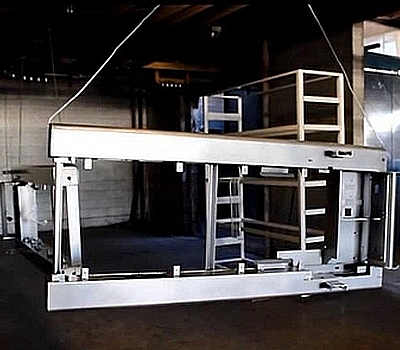 Finish Painting | Powder Coating
Powder coating is a high-quality finish found on all our remanufactured products. Protects the roughest, toughest cardio equipment as well as strength equipment items you depend on daily. It provides a more durable finish than liquid paints can offer, while still providing an attractive finish.
Benefits of Remanufactured Generator & Alternator
Remanufactured to OEM specifications.

Performance of a new unit.

Durability and reliability of a new unit.

Replacement parts are OEM.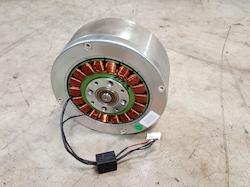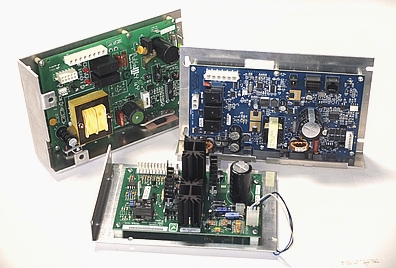 Electronics
All our electronics are inspected through a series of tests and diagnostics. Often, basic repairs are made returning the electronic boards to a perfect condition, if not possible, parts are recycled and replaced by new ones.
Bushings & Bearings
Our remanufactured product uses full range bearings. We work with four major suppliers (Timken, Nachi, INA, NSK), all leader's manufactures in this industry. We want ensure the best performance and reliability during long hour's operations on our equipment.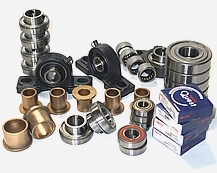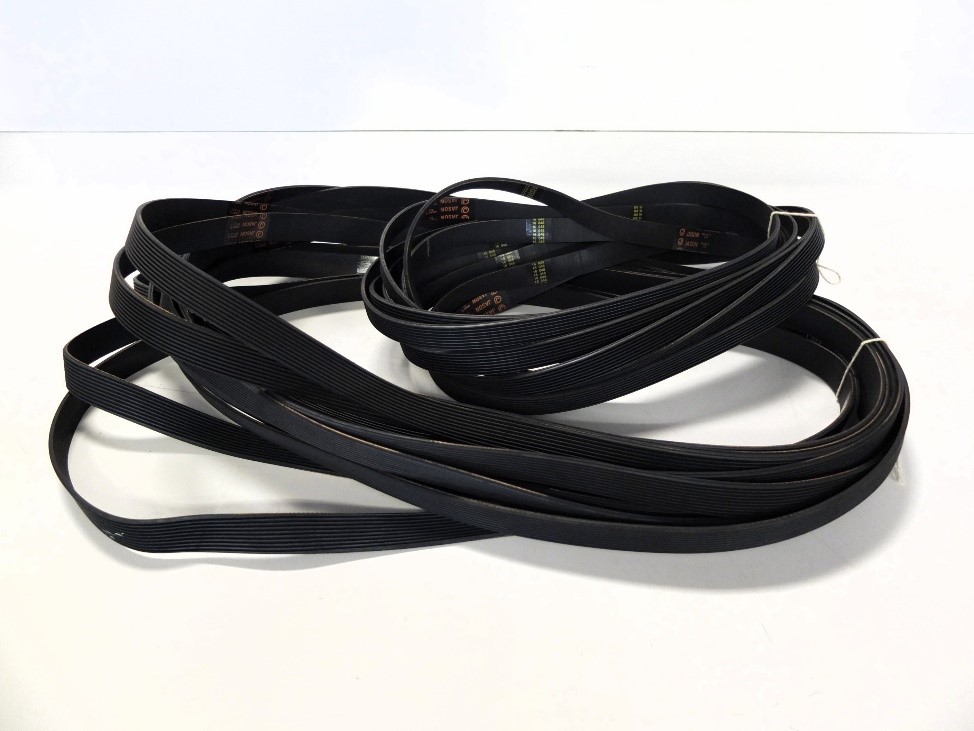 Power Transitions | Drive Belts
From synchronous to cogged to multi-rib V belts. We maintain an extensive stock of belt sleeves to meet our production demand, also in this field we work with the best leading manufactures brands to ensure the best performance and reliability during long hour's operations.
Console Overlays | Decals
All console overlays and decals are replaced with new ones, this ensures to the user a better working experience also ensure reliability and longevity to the equipment.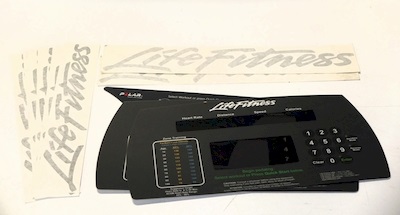 Equipment Features
Heart Rate – Contact Heart Rate | Polar® Compatible.

Pedals – Independent Floating Pedal Mechanism.

Programs – 7 Workouts.

Additional Features – Water Bottle Holder.

Display Readouts – Program, Distance, Calories, METS, Strides per Minute, Heart Rate, Resistance, Time, Incline.
Equipment Specifications
Electrical Requirements: Input voltage (120V | AC 50-60Hz | 20 Amps)

Equipment Dimensions and Weight:

Length: 67 inches

Width: 30 inches

Height: 58 inches

Equipment Weight: 325 lbs

Drive System: Front Drive, 2-Belt System, with Eddy Current Brake.

Stride Length: 24 inches Fixed Length.

User Capacity: 400 lbs.

Resistance Levels: 101 (0 - 900 Watts).

Incline Levels: 0% - 10%.

Heart Rate: Contact Heart Rate | Polar® Compatible.

Pedals: Independent Floating Pedal Mechanism.

Programs: 7 Workouts.
Commercial Cardiovascular Equipment
Limited Warranty does only apply to REMANUFACTURED products.
PLEASE READ THESE WARRANTY TERMS AND CONDITIONS CAREFULLY BEFORE USING YOUR STRENGTH INDUSTRY INCORPORATED PRODUCT. BY USING THE EQUIPMENT, YOU ARE CONSENTING TO BE BOUND BY THE FOLLOWING WARRANTY TERMS AND CONDITIONS.
Base Care Limited Warranty. Strength Industry Incorporated warrants all remanufactured products to be free from defects in materials and manufacture for the warranty periods set forth below. The warranty periods commence on the invoice date of the original purchase. This warranty applies only against defects discovered within the warranty period and extends only to the original purchaser of the product. Parts repaired or replaced under the terms of this warranty will be warranted for the remainder of the original warranty period only. To claim under this warranty, the buyer must notify Strength Industry Incorporated within 30 days after the date of discovery of any nonconformity and make the affected product available for inspection by Strength Industry Incorporated or its service representative. Strength Industry Incorporated obligations under this warranty are limited as set forth below.
Warranty
Frame
Motor & Alternator
Mechanical Parts
Electrical Parts
Wear Items
Console Overlay
Service Labor
Years
Years
Months
Months
Months
Months
Months
Treadmills
5
1
6
6
3
6
6
Ellipticals Crosstrainers
5
1
6
6
3
6
6
Stationary Bikes
5
1
6
6
3
6
6
Steppers
5
1
6
6
3
6
6
Other Cardio
5
1
6
6
3
6
6
Notes:
Treadmill motor & motor control board's warranties include labor to match the parts warranty period.
Wear items are defined as and are not limited to treadmill deck, running belt, seats, pedal covers and hand grips.
This Limited Warranty shall NOT apply to:
Software updates.
Software defects that do not materially and negatively affect the exercise functionality of the product under normal use conditions at the time of installation.
Consumable goods or cosmetic items of the product, to include all plastic or painted surfaces, the exterior of which has been damaged or defaced as a result of abuse, misuse, accident, improper service or installation, mishandling or modification in design or construction not authorized by the Manufacture; including, without limitation, use or incorporation of any non-OEM (Original Equipment Manufacturer) replacement parts.
Cosmetic, structural, or functional damage (including rust, corrosion and unusual wear) caused by failure to follow the maintenance procedures described in the owner's manual.
Repairs performed on remanufactured piece of equipment missing a serial number.
Service calls to correct installation of the equipment or instruct owners on how to use the equipment.
Pickup and delivery involved with repairs.
Any labor costs incurred beyond the applicable labor warranty period.
This warranty gives you specific legal rights, and you may also have other rights, which vary from one jurisdiction to another.