Free Motion Ground Zero Lat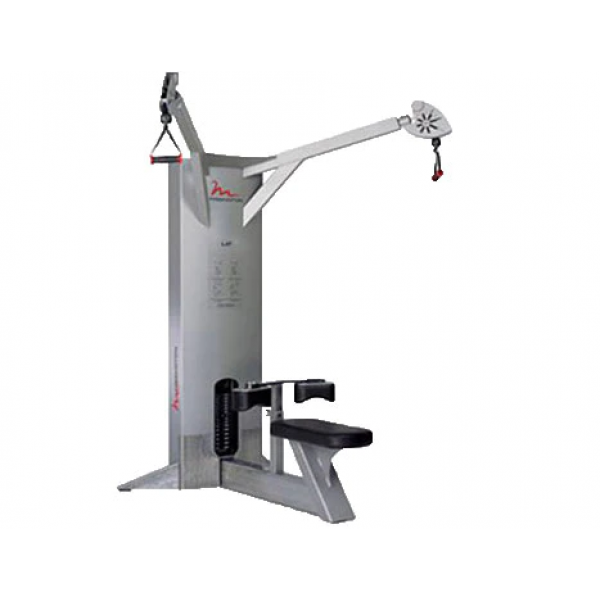 The FreeMotion Wide Tower Lat functionally trains the arms, shoulders, and back to work together in pulling and lifting movements. Muscles targeted are in the back, shoulders and arms. Plus, the FreeMotion Row engages your stabilizer muscles helping you improve core strength and overall balance
Features

Swivel Pulleys - Pulley design ensures fluid cable travel and provides nearly unlimited range of motion.

Independent Arm Movement - Handles move independently for a wide variety of back exercises and single arm movements. It's easy enough for the beginner, yet offers a progression of exercises so the advanced user can get a complete, functional workout.

Arm Position - Wide arm positioning allows complete flexion and extension for full range of motion.

Cable Travel - Extensive cable travel allows for full exercise flexion, single arm: 85 inches (215 cm), two arms: 40 inches (102 cm).

Weight Stack - Enclosed weight stack limits access to moving parts for user safety.

Industrial Construction - Equipment is built with 11- and 7-gauge steel and is electrostatically powder-coated.

Kick Plates - 16-gauge, stainless steel kick plates protect the machine from wear and tear.

Adjustable Thigh Pads - Contoured, thigh pads adjust in height and swivel and slide to fit a wide variety of users.

Seated Position - Users can sit to perform traditional seated exercises or stand for added intensity.

Dimensions (LWH) 56" x 52" x 83" (142 cm x 132 cm x 210 cm)

Effective Resistance 1 arm - 100 lbs. (45.5 kg), 2 arms - 200 lbs. (91 kg)

Weight Stack Configuration 10 - 100 x 10 lbs. (4.5 - 45 x 4.5 kg), 120 - 200 x 20 lbs. (54 - 90 x 9 kg)

Machine Weight 575 lbs. (261 kg)

Cable Diameter 3/16-inch rated to 2,000 lbs.