FreeMotion Ground Zero Shoulder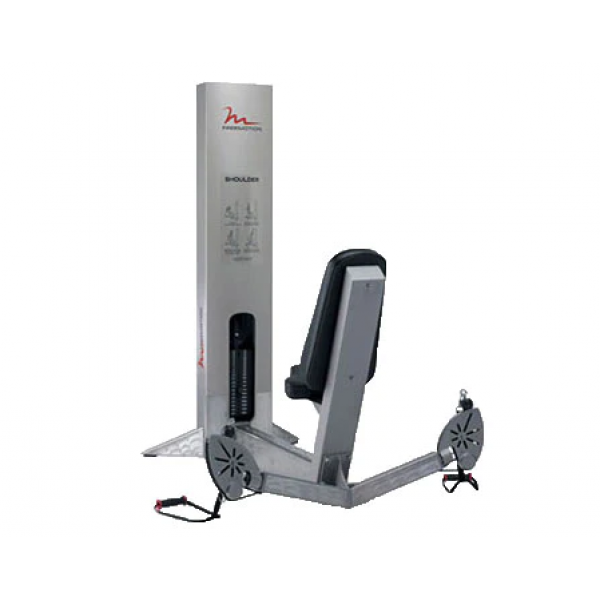 The FreeMotion Shoulder features swivel pulleys that ensure fluid cable travel and provide nearly unlimited range of motion and handles that move independently for a wide variety of shoulder exercises and single arm movements. A supported position is ideal for traditional and first-time exercisers, or to further challenge the body advanced users may perform exercises off the backrest or standing.

The Free Motion Ground Zero line is a revolutionary 18-piece strength training system that overcomes the limitations of traditional fixed pattern exercises by incorporating functional training with real-life results, allowing you to "Train the Way You Move." The Ground Zero line functionally trains numerous muscle groups of the body simultaneously in natural, real-life, compound movement patterns, for an integrated total body workout. Unique machines include the Step, which develops balance, coordination, and lower body strength for activities such as climbing stairs, and the Lift, which trains the leg, arm, and back muscles to work together for spinal stabilization and activities that require lifting. The Single and Dual Cable Cross boast ground breaking proprietary features and provide an almost limitless range of diverse total body training exercises.


A FreeMotion Ground Zero Shoulder is, and can best be described as follows: A Shoulder Press is a plate-loaded or selectorized piece of gym equipment available in variations including: Seated, Military, Overhead, Incline, Behind the Neck, and others, and works the shoulder muscles during Strength Training. The user grasps handles placed at shoulder level and lifts the loaded or selected weight by pushing upward until the arms are fully extended overhead.