Schwinn AC Performance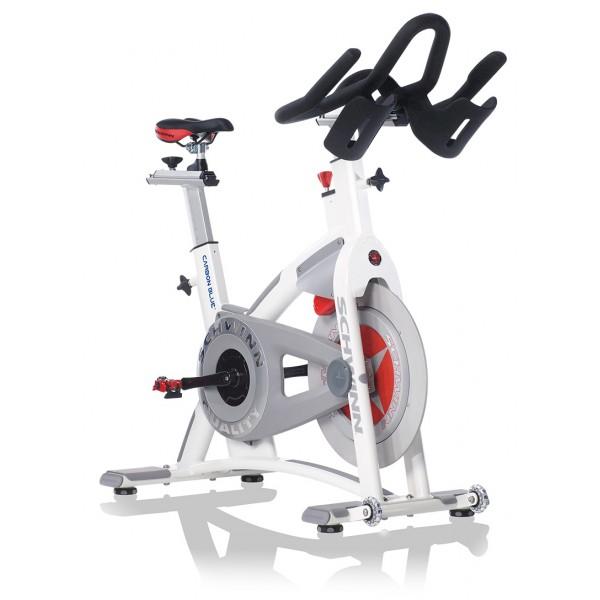 One of the most professional spin machines on the market, the Schwinn AC Performance is an ergonomic indoor cycle that will allow you to experience gym-quality workouts right in the comfort of your very own home. From the sturdy aluminum frame to the 6 magnet brake system setting, this spin bike is certainly worth its price. Most importantly, it remains an investment for life since it can very easily last for several decades with hardly any care and maintenance. In fact, long-term users have claimed to be quite impressed by how the magnetic brake system didn't undergo any wear and tear, even after years of constant, heavy-duty usage.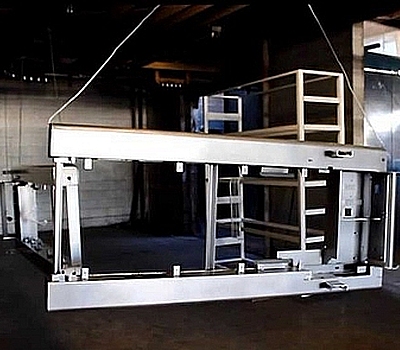 Powder Coating
Powder coating is a high-quality finish found on all our remanufactured products. Protects the roughest, toughest cardio equipment as well as strength equipment items you depend on daily. It provides a more durable finish than liquid paints can offer, while still providing an attractive finish.
Powder coated products are more resistant to diminished coating quality as a result of impact, moisture, chemicals, ultraviolet light, and other extreme weather conditions. In turn, this reduces the risk of scratches, chipping, abrasions, corrosion, fading and other wear issues.
Benefits of Remanufactured Motors
Remanufactured to OEM specifications.

Performance of a new unit.

Durability and reliability of a new unit.

Parts and replacement parts are OEM.

Upgraded features not utilized on the band new units.

Ability to customize motor package to match a customer's specifications.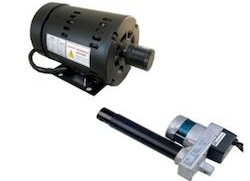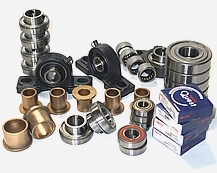 Bearings
Our remanufactured product uses a full range of ball & roller bearings deep groove, angular contact, self-aligning, thrust, cylindrical, spherical, tapered, and needle.
We work with four major suppliers (Timken, Nachi, INA, NSK), all leaders manufactures in this industry. We want ensure the best performance and reliability during long hour's operations on our machines.
Power Transitions | Belts
From synchronous to vee multi-rib to banded v-belts. We maintain an extensive stock of belt sleeves to meet our production needs, also in this field we work with the best leading manufactures brands to ensure the best performance and reliability during long hour's operations on our machines.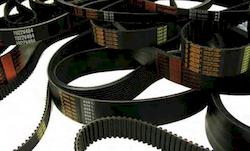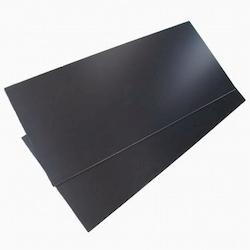 Running Decks | Belts
Our remanufactured treadmills are all outfitted with premium wax-less belts and decks. These are often 2-3 times the price of standard belts, but ensure easy use and extend the life of the part and machine.
Console Overlays | Decals
We replace all overlays and decals with brand New to ensure reliability and longevity of our machines.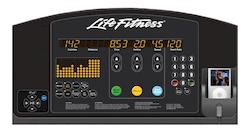 Equipment Features
Virtual Contact™ Resistance Technology - the innovative system utilizes magnets and an aluminum disk to generate resistance – nothing is in contact with the wheel, which provides several benefits:

No friction, no wear, no change in performance over time, no pads to maintain or replace.

Resistance changes in predictable, manageable amounts – a small turn will never take you from easy to hard – and the adjustment is consistent from bike to bike.

Schwinn® Fit System - Most bikes provide an unnecessary number of seat height and fore-aft position options, making correct set-up complicated. The A.C.™ series bikes are designed to enable a simple, correct set-up for every rider.

During Quick Fit™ - the rider adjusts the seat height, puts the slider in neutral ("O") position, and is ready to ride. The neutral position will be ideal for a large majority of riders.

During Performance Fit™ - there is one position forward and one in back of neutral for fine-tuning.

Handlebars - New Schwinn® performance bars offer several user benefits:

ErgoLoop™ handlebars - to accommodate additional hand positions.

Aero bar position.

12 degree incline of bars - toward the user for more comfortable lean.

Authentic Bike Performance - Chain drive and an oversized, perimeter-weighted flywheel create a rider experience that is smooth, high-performance, and authentic.

Dual-Density Saddle - New saddle is firm in some areas and more forgiving in others, creating the ideal blend of comfort and performance.

Non-Slip Stretching Pads - Pads accommodate user stretching and protect frame from scratches at key.

Schwinn® MPower™ - Console Once you experience the Schwinn® MPower™ console, you will wonder how you ever rode group cycle bikes without these measurements, and you will never want to ride without them again. Unlike other computers that equate speed and distance increases to pedaling at a higher RPM, the Schwinn® MPower™ console calculates speed and distance using watts. Higher speed and longer distance is achieved by working harder (i.e. adding resistance). Thus, real effort is rewarded! The Schwinn® MPower™ console is compatible with all three models of the A.C.™ bike.

Coach's Quadrant - Displays wattage, speed, heart rate and calories in a unique 2 x 2 matrix that turns measurement into motivation! For the first time ever, instructors and students can easily compare these important numbers diagonally, vertically and horizontally to instantly measure improvement, increase performance and stay motivated.

Stage Reset - 'Stage' measures can be reset any time during a ride, making it easier than ever for instructors to set multiple in-class segments, and for students to follow along.

User Metrics Provided - Cadence (RPM), Time, Telemetry Heart Rate, Kcal, Watts, Speed, Distance.

Data Capture - A first for indoor cycling computers, console provides two ways for users to memorialize their workout data and take it with them USB Memory Stick and ANT+ Wireless Devices.

Consistent Measurement of Work - The Schwinn® MPower™ console and watt measurement technology are designed to provide consistent measurements, from workout to workout and from bike to bike.
Equipment Specifications
Console Power Requirement: - (2) C batteries.

Maximum User Weight: - 300 lbs / 136 kg.

Equipment Dimensions and Weight:

Length: 43 inches / 109 cm

Width: 20 inches / 51 cm

Height: 48 inches / 122 cm

Equipment Weight: 106 lbs / 48 kg
Commercial Cardiovascular Equipment
Limited Warranty does only apply to REMANUFACTURED products.
PLEASE READ THESE WARRANTY TERMS AND CONDITIONS CAREFULLY BEFORE USING YOUR STRENGTH INDUSTRY INCORPORATED PRODUCT. BY USING THE EQUIPMENT, YOU ARE CONSENTING TO BE BOUND BY THE FOLLOWING WARRANTY TERMS AND CONDITIONS.
Base Care Limited Warranty. Strength Industry Incorporated warrants all remanufactured products to be free from defects in materials and manufacture for the warranty periods set forth below. The warranty periods commence on the invoice date of the original purchase. This warranty applies only against defects discovered within the warranty period and extends only to the original purchaser of the product. Parts repaired or replaced under the terms of this warranty will be warranted for the remainder of the original warranty period only. To claim under this warranty, the buyer must notify Strength Industry Incorporated within 30 days after the date of discovery of any nonconformity and make the affected product available for inspection by Strength Industry Incorporated or its service representative. Strength Industry Incorporated obligations under this warranty are limited as set forth below.
Warranty
Frame
Motor & Alternator
Mechanical Parts
Electrical Parts
Wear Items
Console Overlay
Service Labor
Years
Years
Months
Months
Months
Months
Months
Treadmills
5
1
6
6
3
6
6
Ellipticals Crosstrainers
5
1
6
6
3
6
6
Stationary Bikes
5
1
6
6
3
6
6
Steppers
5
1
6
6
3
6
6
Other Cardio
5
1
6
6
3
6
6
Notes:
Treadmill motor & motor control board's warranties include labor to match the parts warranty period.
Wear items are defined as and are not limited to treadmill deck, running belt, seats, pedal covers and hand grips.
This Limited Warranty shall NOT apply to:
Software updates.
Software defects that do not materially and negatively affect the exercise functionality of the product under normal use conditions at the time of installation.
Consumable goods or cosmetic items of the product, to include all plastic or painted surfaces, the exterior of which has been damaged or defaced as a result of abuse, misuse, accident, improper service or installation, mishandling or modification in design or construction not authorized by the Manufacture; including, without limitation, use or incorporation of any non-OEM (Original Equipment Manufacturer) replacement parts.
Cosmetic, structural, or functional damage (including rust, corrosion and unusual wear) caused by failure to follow the maintenance procedures described in the owner's manual.
Repairs performed on remanufactured piece of equipment missing a serial number.
Service calls to correct installation of the equipment or instruct owners on how to use the equipment.
Pickup and delivery involved with repairs.
Any labor costs incurred beyond the applicable labor warranty period.
This warranty gives you specific legal rights, and you may also have other rights, which vary from one jurisdiction to another.